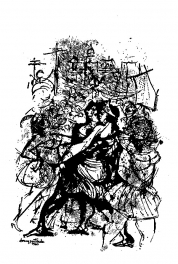 Illustration by Darcy Penteado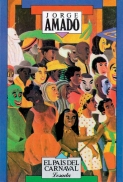 Argentina
| | |
| --- | --- |
| | |
The Country of Carnival is Jorge Amado's first novel, written when he was only eighteen years old. The book was published by Schmidt in 1931, the same year the author enrolled at the law faculty in Rio de Janeiro. Prior to The Country of Carnival, Jorge Amado had published the collection of poetry A luva and the novella Lenita, though he chose to leave these out of his complete works.
The first edition was published in a print run of a thousand copies with a preface by the editor and poet Augusto Frederico Schmidt. The novel was enthusiastically received by Rachel de Queiroz, who had published O quinze the previous year. The two writers met in Rio de Janeiro, and it was she who introduced him to the Communist Youth. In 1932, Jorge Amado became a militant.
Whilst still in Salvador during the period 1927-31, the author had already been a member of the Academia dos Rebeldes (Academy of Rebels), a literary group formed around the journalist and poet Pinheiro Viegas. In an interview with the journalist Joel Silveira, Jorge Amado remarked on the influence Viegas and his group had on The Country of Carnival. Some critics even identified the São Paulo intellectual Paulo Prado, author of Retrato do Brasil (A Portrait of Brazil) as the template for the protagonist Paulo Rigger.
Considered subversive, The Country of Carnival was one of the books burned in a public square in Salvador by order of the Estado Novo regime in 1937.
The novel was published in Portugal and has been translated into three languages.


| | |
| --- | --- |
| | |
One night, when he went out to admire the city, he was startled by a deafening noise. It was then that he realized that the streets were crowded with people. Cars passed by carrying girls in fancy dress. It was general mayhem..
Paulo Rigger finally remembered that it was Carnival Saturday. He took a cab and started following a carload of girls; the virtuous daughters of an esteemed moralist. Rigger aimed some Carnival spray at the most beautiful of them. Her wet breast seemed ready to pop right out of her blouse. She giggled hysterically.
They went dancing later, and the crammed ballroom and the dance that joined them together made her swoon. He covered her with kisses and caresses. He saw that all around him people were kissing and groping. It was Carnival... The victory of all instinct, the reign of the flesh…
Paulo Rigger cried out:
- Viva Carnival!
And the whole hall rejoined:
- Viva Carnival!
And the virtuous young lady rubbed up harder against him.